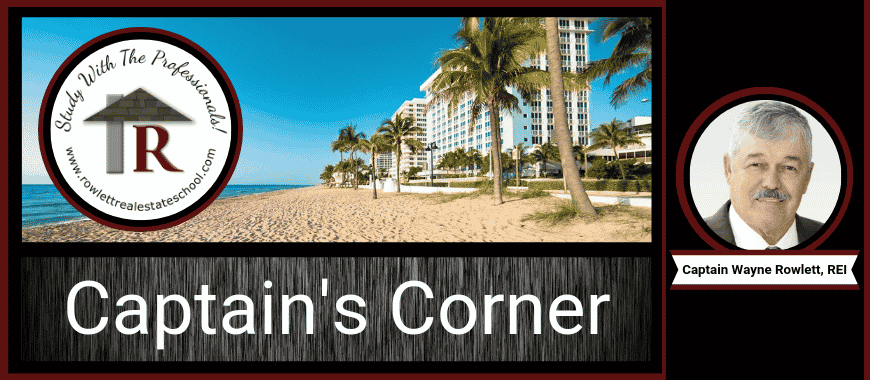 What is Title Insurance?
Title insurance is a contract that protects the policyholder from losses arising from defects in the title. Florida law does not require title insurance. It is a unique type of insurance. It protects against loss from past occurrence, such as a forged deed somewhere in the chain of title.
Other insurable title defects include flaws due to incorrect marital status and incapacity of a grantor due to mental incompetence.
The title insurance company will defend a lawsuit based on an insurable defect, and it will pay claims up to the face amount of the policy if the title proves to be defective. Policies do not cover exceptions (exclusions) listed in the policy, such as an unrecorded easement or a lien arising after the policy was issued.
Brokers must handle statements regarding title to property with extreme caution. Real estate licensees are not qualified to render an opinion of title. Licensees must advise the buyer to either contact an attorney or a title insurance company to determine the condition of the seller's title.
Florida law requires that when questions of title arise, licensees first must obtain a current opinion from an attorney before quoting an opinion that title to a property is good or marketable. Real estate licensees are further required to advise prospective buyers to have their attorneys examine the abstract or to obtain a title insurance policy.
If a licensee knows the title to a property is not marketable or that liens exist, they are required to inform prospective buyers of all such conditions.
Two Types of Title Insurance
Owner's policy: Issued for the total purchase price of the property. It helps protect the new owner (or the owner's heirs) against unexpected risks. This includes forged deed signatures and damages for any defect in the title (unless listed as an exception in the policy). A one-time premium is paid when the policy is issued. The policy is not transferable to another owner.
Lender's policy: Issued for the unpaid mortgage amount. The lender policy (or mortgagee policy) protects the lender against title defects. Unlike the owner's title insurance, the lender's title insurance is transferable. If the mortgage lender sells the mortgage to another investor, the title insurance is assignable to the new mortgagee. The lender policy will protect the new owner of the mortgage up to the unpaid balance of the mortgage loan. Most lenders require lender's title insurance as a condition of issuing a mortgage loan.
Want to Learn More?
Ready to take the next step towards a real estate career? Choose Rowlett Real Estate School today and make your real estate career dreams a reality!
Check out our Exclusive Fully-Narrated Online Video Course. 
Register for our Destin, Florida Live Classroom Course or our Panama City Beach Live Classroom Course. START TO FINISH IN ONE WEEK!
Visit the Rowlett Real Estate School Videos page and the Rowlett Real Estate School YouTube page for our library of helpful videos!
---
Rowlett Real Estate School is a family-owned and operated, FREC-approved, fully-accredited Florida real estate school based in the Panhandle of Florida. We specialize in educating and assisting students with all aspects of obtaining/maintaining their Florida real estate license. Providing excellent customer service is our top priority. Above all, we understand the importance of making ourselves available to our students. As a result, you may reach our instructors during regular business hours. Likewise, our knowledgeable staff is available after hours, weekends, and holidays.