Owner and Lender Title Insurance Policies
You may be asking yourself, what is the difference in an owners title insurance policy and a lenders title policy?
Lender and Owner Policies Defined
The lenders policy is a policy for the mortgaged amount.  It insures the title in the event that a problem arises on the title and it will pay the lender the unpaid mortgage balance.  The lenders policy is transferable, which allows the lender to sell a mortgage in order to get more money, enabling the lender to make more loans.  The owners policy is for the sale price and it is not transferable.  The owners and lenders policies cover unforeseeable situations, such as a forged deed and the lack of recording a marital status correctly.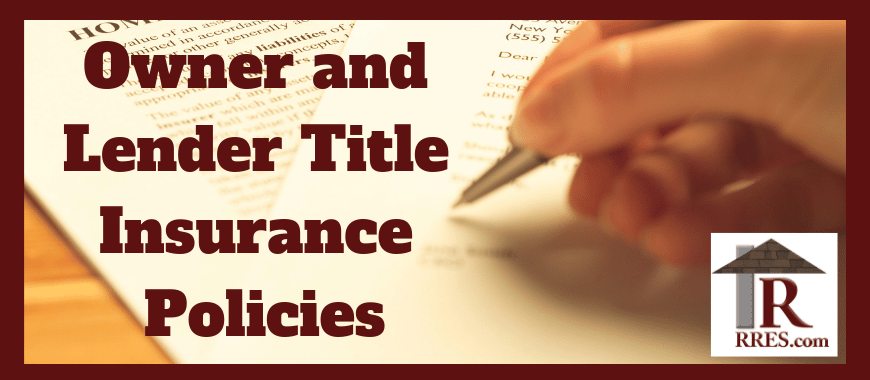 Real Life Examples
I have a friend who had purchased a house, barn, and lot for $35,000 with intentions of tearing down the house and reconstructing a new one. The city notified him 9 months later that they had found a permit to re-side the barn that had never been completed.  There was no doubt that the barn needed to be re-sided, so he checked into his title insurance policy.  As a result, the title insurance company paid him $35,000.  He went ahead and re-sided the barn, the permit was closed, and everything worked out.
I know another story of a man who bought a vacant lot for $100,000 and had his dream home built. He was delivered documents 6 years later that named another person as the owner.  He submitted his claim and the title company paid him $100,000.  The $100,000 was for the land, not his house.  His title insurance did not pay him for the construction of his house. He could (and should) have amended his policy to include the construction of his house.
It is very important that home buyers shop around and purchase the best title insurance policy for their personal situation.
Want to learn more?
Visit the Rowlett Real Estate School Videos page and the Rowlett Real Estate School YouTube page for our library of helpful videos!